by Susanne
Royal-Watcher
Dietze
I may be voyeuristic, but I've been peeking at Twitter feeds, People.com, yahoo news, and Facebook for The Big News. Any minute now, the world will know the scoop about Wills and Kate's baby!
I've been waiting for their baby since their wedding! Photo by Magnus D
As of press time (aka bedtime last night), The Duchess of Cambridge (aka Kate Middleton) had not yet given birth to the Prince or Princess of Cambridge (aka future king or queen of England, since the rules have changed and now the first-born, boy or girl, will be monarch).
Poor Kate. Overdue, with the entire world watching. I'm sure she looks glamorous, though. She's looked great through her pregnancy.
One month ago, looking lovely, with Wills and Uncle Harry. Carfax2
News media, paparazzi, and regular ol' people are camped outside the Lindo Wing of St. Mary's Hospital in London where Kate give birth, and Kate hasn't even checked in yet.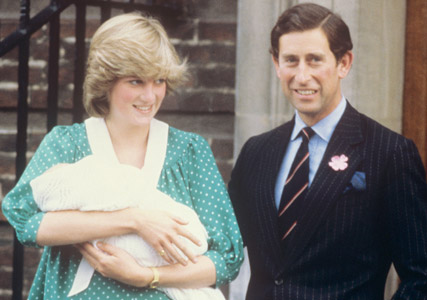 Wills' birth in 1982 at the same hospital--so sweet! from marie-clare
Depending on which article you read, some half million-150 million pounds have been wagered in Britain over the Royal birth. The baby's gender, weight, length, hair color, and name are all subjects of popular bets. The odds were 5-to-1 that Kate would give birth yesterday, July 14. (Americans can weigh in, too, just not for money. NBC has a
web page devoted to making predictions about the royal baby
, and if your guess comes close, a producer from the Today show may contact you.)
The Palace officially claims Wills and Kate do not know the baby's sex, but Kate may have slipped up when accepting a teddy bear from a woman. She started to say something like, "thanks, I'll give this to my d--", although who knows if she was really going to say
daughter
.
Currently, the name Alexandra is the top favorite for a girl, and George and James are the favorites for a boy. (Personally, I think the baby is a girl and her grandmothers' names, Diana and Carole, may somehow factor into her name, but if so, they'll be third and fourth in the mix. I think her second name will be Elizabeth or Victoria.There's my unofficial bet.)
A newborn royal's name, btw, usually isn't announced for a week.
In the meantime, Kate and Wills are going on with life.Wills took leave from his job as an air-sea rescue helicopter captain, leaving his base in Anglesey to be with his wife. However, he spent the weekend with his brother competing in a polo event at the Hampshire estate of
Phantom of the Opera
composer Andrew Lloyd-Webber, which benefited William and Harry's African charities. Harry's team won, by the way.
Wills plays polo is 2007, just as he did this past weekend. Phooto, modified by Gridge
Kate, who was due either July 11 or 13 (I've seen both) has been out of the public eye for her last month of pregnancy, the better to avoid paparazzi whilst suffering from swollen ankles and moving around with a duck waddle. She's been hanging out at her parents' home in Berkshire this weekend, supposedly to escape the 80+ degree temperatures in London. (I had a July baby, myself. I well remember how the heat affected me, Kate. Sisterhood!)
I just love that she's so close to her family, don't you?
I guess the reason I'm so excited is that I love babies, royal or common. New life is something to celebrate because it's always, always a miracle from God's hand.
Are you excited about the Royal Baby? Assuming the baby hasn't been born yet and/or the name hasn't been released, what's your guess?
Royal Watcher Susanne Dietze got up at 2 a.m. with her mom to watch Princess Diana marry Prince Charles. At the time, she thought Diana's gown was the most gorgeous thing ever. Her tastes have changed a bit.